Aria's Dating Candidates
♥.·:*¨¨*:·.♥.·:*:·.♥.·:*¨¨*:·.♥ 
Casey Appleton
is a simple man: he loves food and mixing drinks
Joshua Kingsly
is a little on the wild side. He loves to party.
Jon Callaway
is a genius and a straight up player.
`·.¸¸.·´´¯`··._.·`·.¸¸.·´´¯`··._.· 
Aria tries to spend alone time with Casey and Joshua, to see if there is any possibility of a romance with either one of them. Neither Casey or Joshua seem to be interested in her that way. Could be that she truly is not that interested in them and they sense that. Aria finds herself thinking about Jon and comparing Casey and Joshua to him; I guess it's a lost cause with them.
Last edited by BlueRaine on Mon Oct 09, 2017 6:42 pm; edited 2 times in total
Sr. Ring Member





Posts

: 158


Join date

: 2016-07-25



Well, Aria decides to give it a go with Jon and see where it leads. She invites Jon over for dinner and he tries to sweet talk her while she cooks. Jon sees he has to work a little harder.
₪₪₪₪₪₪₪₪₪₪₪
Aria continues to spend more time with Jon. Aria is beginning to wonder if the player thing is real or just an act, because at times, Aria sense that Jon wants more than just a fling with her. There is also something sad about Jon, Aria realizes, and something mysterious, like he is hiding something. She is taking it slow, hanging out as friends for now.
(to see full pic, click on it)
₪₪₪₪₪₪₪₪₪₪₪
A few weeks later, Aria feels it's time go out on an official date with Jon. They have their first date; things go well, there were a few award moments, but a very successful date over all. 
Jon pretty is intrigued by Aria, she is not like any of the other women he has been going out with, she is quite a challenge. Not even a kiss from her after their first date. 

₪₪₪₪₪₪₪₪₪₪₪
Since they had a great date the night before, and Jon not giving up on Aria, they go to the Romantic Festival. Romance is in the air and both Aria and Jon are both feeling it. 
"Look at that pretty pink fountain over there, what is it?" Aria asks. 
"I think it's that tea I have heard about, wanna try some. " Jon says. 
"Sure." says Aria.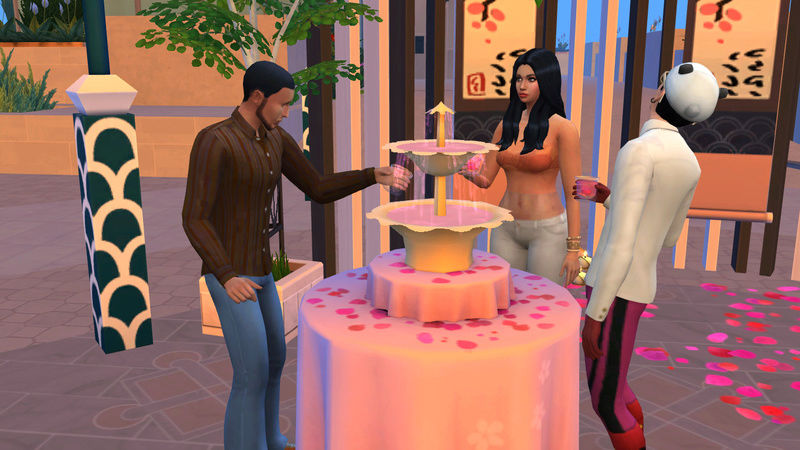 ₪₪₪₪₪₪₪₪₪₪₪
As they walk inside to have seat, Aria discovers an interesting side effect from drinking the pink tea.
"I'm glowing!" says Aria
"Me too!" says Jon.
Both of them are feeling the magic of romance and have their first kiss.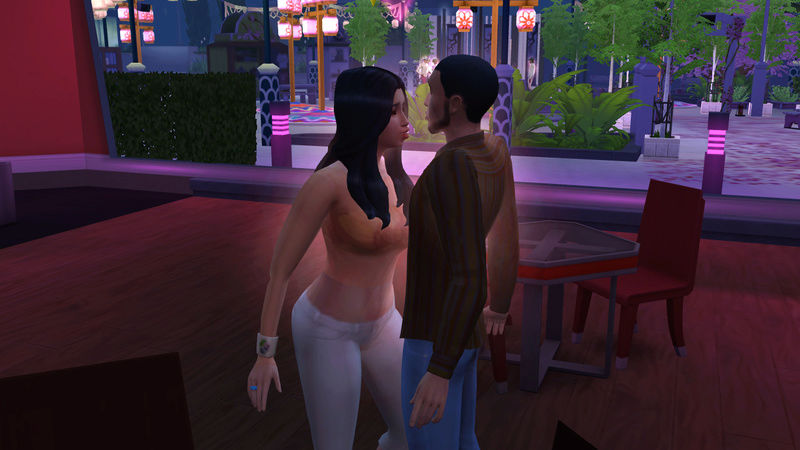 Aria and Jon to agree to an exclusive relationship, during the Romantic Festival; it must have been that tea .

Will Jon be faithful? Aria is no fool, she will keep her options open. At the moment Jon will due for a Mr Right Now.
Sr. Ring Member





Posts

: 158


Join date

: 2016-07-25



---
Permissions in this forum:
You
cannot
reply to topics in this forum